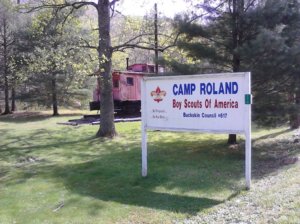 Surrounded by the National Forest, Camp Roland is located 3 1/2 miles from Bastian Virginia on State Route 614 just off of I-77. The 78 acre camp has two shower houses, a dining hall, eight cabins, seven activity buildings and eight shelters in the field tent camping area.  Camp Roland serves as host to several Mt Dominion district events throughout the year, including:
Boy Scout Winter Klondike
Boy Scout Spring & Fall Camporees
Boy Scout Summer Badge-o-ree
Cub Scout Spring & Fall Family Camp
Cub Scout Summer Day Camp
Camp Caretaker
Marty Allen- 276-688-3863
Camp Website
To stay up to date with what's happening at Camp Roland, visit the camp website at Camp Roland
 website.
Directions
9238 Grapefield Rd, Bastian, VA  24314
Start on I77 'between the tunnels' in Bland County, Virginia. Travel to BASTIAN (Exit 58). From exit 58, turn toward downtown Bastian (if coming from Wytheville, turn left at the ramp.  If coming from Bluefield, turn right at the end of the ramp). After you pass the Marathon gas station on your LEFT, turn LEFT at the stop sign and travel approx 100 yards on US Route 52. After 100 yards, turn RIGHT on State Route 714.  After about 3 miles, look for a RED CABOOSE on your left.  Turn left down the gravel driveway just before reaching the caboose.
Reservations
Camp Properties
To make a reservation, call the Council Service Center - 304-340-3663