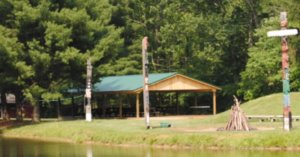 The General Andrew Lewis Scout Reservation, known as Camp Arrowhead, is a 280 acre facility located in Ona, WV.  Among the camps offered here are Boy Scout Summer Camp, Cub Scout Resident Camp, Day Camp, and district Family Camps.
Facilities include Meachem Lodge - a meeting/training room, dining hall, several cabins, Cub World playground, swimming pool, shower house with attached Trading Post, climbing wall, shooting sports ranges, and two stocked lakes.  Many campsites are available for unit camping.  Each campsite has running water and latrine facilities.
Camp Caretaker
Caleb Gibson
Directions
From I 64, take Exit 20 (Huntington Mall), proceed south to US Rt 60 and turn East at the light.  Go 1 mile East on US Rt 60 to the second traffic light and turn left onto Blue Sulphur Road.  Proceed 1.6 miles to Scout Camp Rd.  It is marked with a Camp Arrowhead sign on the right.  Turn right onto Scout Camp Rd and follow it to the entrance.  At the entrance bear to the right, following the gravel road into the parking lot.
Reservations
Camp Properties
Camp Arrowhead general color map
To reserve a site, call the Huntington Scout Shop at 304-523-3408.