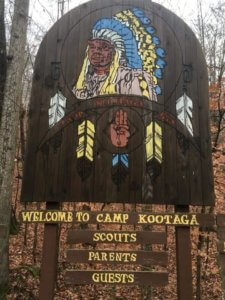 Don B. Lowe purchased the property known as Camp Kootaga in 1922 The first long-term summer camp was held that year on the banks of the Hughes River. This camp consisted of one or two Troops from the Parkersburg area with Don B. Lowe as the Camp Director. In 1929 Col. R. L. Cole brought a Kiowa Indian named J. Dougannah to help with the camp program. He named the Boy Scout camp "Kootaga" which means "Good Friends".
Through the years, Camp Kootaga has gone through many changes, but one thing has remained constant: helping develop young people into upstanding citizens and outstanding individuals.
Camp Ranger
John Baker        304-628-3766- Camp phone
Directions to Camp Kootaga
Physical Address:  79 Camp Kootaga Rd, Walker, WV 26180
From the North travel south on 77 to Parkersburg.  Take the WV-47E / Staunton Ave Exit
Head East on 47 or Staunton Turnpike
Or from the Northeast 79 south to 50 – south to 47 at Parkersburg and East on 47 to camp.                  .
From the South travel north on 77 to Parkersburg.  Take the WV-47 E / Staunton Ave Exit
Crossroads General Store is just 1-mile West of the camp entrance on State Route 47.
Camp GPS coordinates: 39.1473° N, 81.3640° W
Camp Kootaga Rental Form